Let's just go ahead and dub today 'Monogram Monday' on Bows & Sequins, shall we? I posted a round-up of my favorite monogrammed gifts earlier so I figured I'd go ahead and feature one of them in an outfit post, too!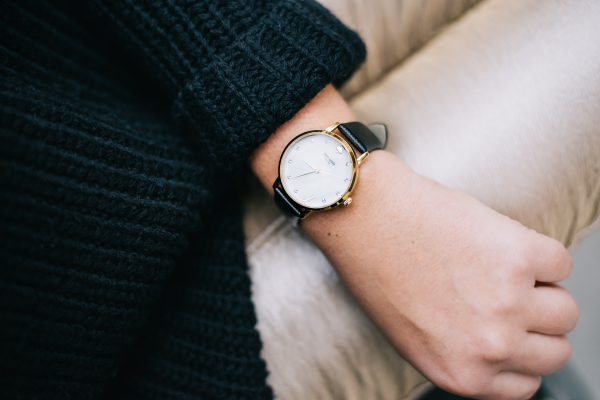 I've been really loving leather-strapped watches lately (remember this post?) and I've been on the hunt for one that will pair perfectly with a good chunk of my wardrobe. Now that it's cooled off for good and the holidays are right around the corner, my clothing choices are gravitating towards more and more black. When I saw this Kate Spade monogrammed watch, I knew it was exactly what I was looking for. I love how the leather strap is a little bit masculine… It's a great juxtaposition to my closet full of predominantly feminine pieces.
A watch is one of my favorite gifts to give. It's a piece that your loved one will wear almost everyday, which makes it extremely practical. It's also a piece that is incredibly functional… How may times do you glance at your watch each day? Imagine he or she thinking of you each and every time check!
Since this Kate Spade monogram watch is such a classic style, its a great gift for every lady on your list, so as long as her name starts with A, B, C, D, E, J, K, L, M, N, R, S, or T. Moms, aunts, sisters, nieces, and grandmothers alike. A personal touch, a timeless leather strap, and a clean face make it a gift that she'll reach for day in and day out. (Also, it comes in a really cute striped box so no wrapping necessary!)
Speaking of feminine pieces… these pants! After my pant episode last week and wearing pants again today, I don't even recognize myself. I think I've found my perfect fit, though… They need to be a little bit relaxed so they're not too tight in the thigh. Once they are tight in the thighs, they start to bag in the knees and that's when I give up and just stick to my jeans and skirts/dresses. But this relaxed fit is pretty fab! And I mean, they're gold and slightly shimmery… What's not to love? Oh, and I should mention that they're basically FREE. Marked down 65% plus an extra 25% off. So they are literally $25. No brainer, right? You have to buy them. They're so perfect for holiday gatherings this season!
This outfit is perfect for an office holiday party, or anywhere you don't want to find yourself too over-dressed. A black and gold outfit is festive, but the pants don't look like you're trying too hard. To dress it up a bit more, you could always switch out the chunky sweater for a silky black blouse or something a little bit more fitted on top.
Another FYI — These Kate Spade bow pumps are finally back in stock, and on sale!! You know that I wear mine constantly… They're my go-to black pump. The heel height is pretty perfect, too… Easy to walk in and they make your legs look a mile long! If you missed out last year, be sure to get them while you can.
Get the Look…
Calypso Sweater (old, similar here)
J.Crew Gold Pants (on sale!)
Kate Spade Heels (on sale!)
Bauble Bar Necklace
Kate Spade Monogram Watch c/o
Valentino Sunglasses
3.1 Phillip Lim Pashli Bag
Created in partnership with Kate Spade