I know, I know. Why am I wearing a sweater and pants when it's hot & humid in Chicago? Believe you me, I am no where near ready for fall, I'd love to live in a land of endless summer. (Yes, I realize I should move to Cali.) BUT I wanted to share a few of the pieces I've picked up in the Nordstrom Anniversary Sale and show you how I plan to style them in a few months! As you might know, the Anniversary Sale is all new-for-fall merchandise that's debuted at deeply discounted prices before the prices go back up to full retail on August 7th. Right now, the sale is only open to cardholders, but it opens up to everyone this Friday! (You can see a full look at almost everything I tried on in this post!) Today I'm sharing this fun flared-sleeve sweater and this pair of high-waisted wide-leg trouser pants styled two different ways… One with studded heels and a structured tote for work, one with pearl embellished flats that's perfect for a weekend brunch.
I couldn't believe all of the flared, bell-sleeve sweaters and tops included in the Anniversary Sale! Statement sleeves have been all the rage this spring and summer, and the trend isn't going anywhere for fall. If you're looking to spice up your sweater game this fall, definitely grab a few flared styles in this year's Anniversary Sale. The sweater I'm wearing has the most subtle color-blocking on the sleeves and also comes in black/white and navy/white! It's insanely soft and not dry clean only, which is always a plus. Did I mention it's only $49?!
Here are a few more of my favorite flare sleeve tops on sale…

*most all of these styles come in a ton of colors, too!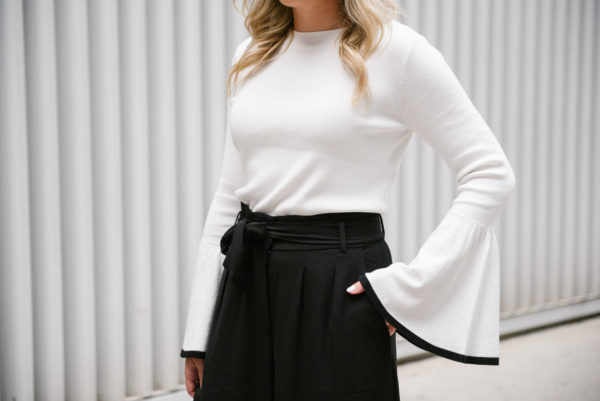 Another sale I want to mention is the Bauble Bar sitewide sale that starts today! Up to 30% off! Today through Friday, July 21st, use the below promo codes to save.
30% off orders of $50+ with code MOODLIFT30
20% off all orders with code MOODLIFT20
You can find the earrings I'm wearing
here
and a few more of my favorites in the widget below!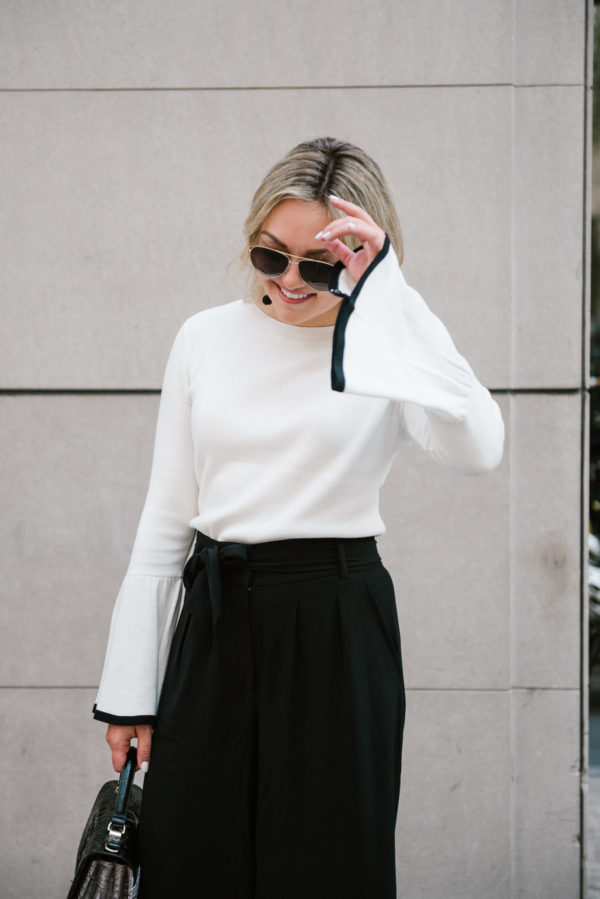 You can see how I paired these pants with a little crop top in this post! They're surprisingly versatile and super easy to wear. You could simply tuck in a tee shirt, wear them with a bodysuit, or event with a fitted turtleneck later this winter. Since they're so voluminous, it's best to wear with something more sleek or fitted on top. As for shoes, flats, heels, slides, booties, you name it… They all work! (And they're only $45 in the sale!)
Get the Look…
Dressed Up
Leith Wide Leg Trousers (on sale for $45!)
Halogen Flared Bell-Sleeve Sweater (on sale for $49!)
Brahmin Structured Handbag
Dolce Vita Embellished Stud Heels (under $100!)
BaubleBar Earrings (also available here!)
Gucci Aviator Sunglasses (on sale! also love these for less!)
Dressed Down
Leith Wide Leg Trousers (on sale for $45!)
Halogen Flared Bell-Sleeve Sweater (also comes in black and navy!)
Steve Madden Embellished Pearl Slides (only $59!)
Gucci Bag
Gucci Aviator Sunglasses (on sale! also love these for less!)