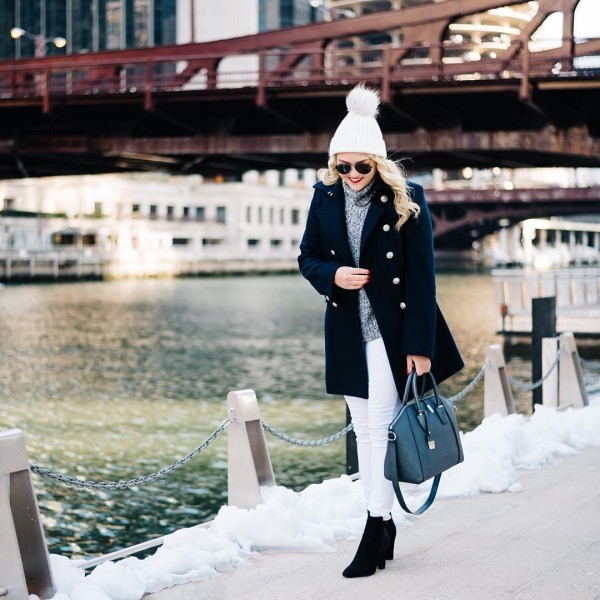 This week was an exciting one on the blog! We kicked off our first-ever giveaway series to Beat the Winter Blues! If you missed the memo, there will be at least one giveaway every single day until Valentine's Day. We kicked things off with BaubleBar (that giveaway is now closed), but there's still time to enter yesterday's Bluemercury giveaway. And don't miss your chance for a staycation in Chicago with JW Marriott! Be sure to check the blog often over the next few weeks so you don't miss out on lots of fun freebies.
1. I'd like to co-sign this non-politcal post from Hallie! It's definitely been challenging to write about happy, frivolous things like shopping in Paris and my favorite jewelry brands, but that's what Bows & Sequins has and always will be… A fun place to stop by to chat, seek life and style inspiration, and discover new things on the fashion, travel, fitness, and beauty fronts. Sure, we get personal and deep from time to time, but I want to intentionally keep it light for the time being. I hope you understand!
2. You may have seen it in Instagrams or little snaps here and there, but I used a Simplified Planner for the first time last year and loved it. (I had the Pineapple One!) I was slacking this year and still hadn't ordered my 2017 edition… Just placed an order for the navy floral one yesterday! Can't wait to get back into it.
3. These Bacon Wrapped Jalapeño Poppers look so so so good! Just in time for the Superbowl this weekend. (If you haven't checked out my recipe for Healthy Buffalo Chicken Meatballs, you can find it here!)
4. Liz is kicking ass with her fitness progress and it's so inspiring! Bookmarking her video for when I can workout again. // Sidenote: I've mentioned it on my Snapchat, but I can't remember if I've told you here on the actual blog… I have a stress fracture in my right ankle and I'm currently in a boot for anywhere from 2-12 weeks. It's only been five days since I worked out last, but I feel like not exercising is eating me alive. My next appointment is 2/16 so I should know a little bit more about my timeframe then. On the bright side, I've been trying to focus on other things that I've been neglecting… Lots of content to come surrounding this! I've learned a lot of lessons the hard way this past week so hopefully I can save you from making the same mistakes.
5. Loeffler Randall wrap sandals are my go-to year after year! I've bought an updated pair every spring/summer for the last two or three years and I wear them all season long. (A seen on the blog here, here, here, & here!) I just found their most recent pair with HEARTS that are too cute not to share. ❤️ Going on a trip for Valentine's Day? Or an upcoming honeymoon? They're perfect! The star pair is supes cute, too.
That's it for this week! xo