It's been almost a month since I shared this post about cute face masks, and it ended up being my most-viewed post in April, so I can't tell you how much I appreciate you sharing my blog content with your friends and family! Since a lot more companies have started making masks, I've found a lot more cute styles to choose from, so I figured I'd give you a little update. I now have about a week's worth of masks myself, which forces me to keep up with my laundry every week!
It's a strange reality to wrap our minds around, but I think it's pretty much guaranteed that we'll be needing to wear these when we're in public over the coming months. (If you haven't seen 'The Urine Test' meme floating around, it does a good job of explaining why face coverings are beneficial.) Since my last post and getting into the habit of wearing these masks, I've decided that I much prefer the styles that go behind your hears, not the ones that tie behind the head.
Also worth noting… A lot of the masks that I've ordered on Etsy have seemed a little big when I've gotten them, but since they are cotton, they fit perfectly after washing and drying them. Just something to keep in mind!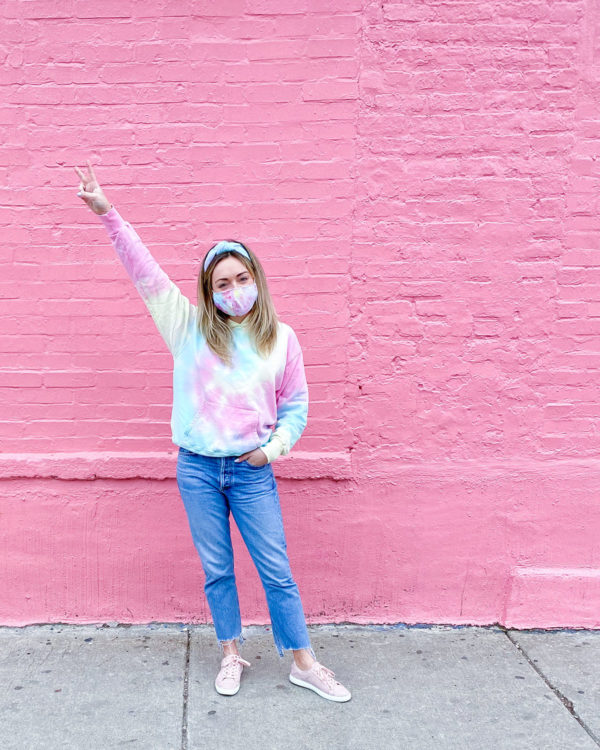 I've now ordered two tie-dye masks from this shop on Etsy! You can't beat the quality for the $9 price. There's a little flexible nose piece that helps fit the mask to your face, which is so nice. (And helps with glasses not fogging up as much!) They ship very quickly, too! Each one is handmade, so they sell out quickly, but re-stock often.
One of my girlfriends got two of these masks, and loves how breathable the fabric is. Makes sense since they're a workout brand!
I also want to give some love to smaller companies and designers that are pivoting and making really cute masks right now… Stoney Clover Lane (I'm stalking these, I want one so bad!!), LoveShackFancy, Dannijo, Lele Sadoughi (SO CUTE!), Tanya Taylor, Fringe + Co, Rowing Blazers, Jonathan Simkhai, Onzie, Misa Los Angeles, Carolina K, Sanctuary,
Know of any others? Feel free to add in the comments below so everyone can check them out!

Featured: