After a few people asked about my Fourth of July plans this week, it finally hit me — it's this weekend, in like 3 days! With the bulk of my thoughts focused on moving over the last two months, I feel like the first half of summer has sort of slipped through my fingertips. How it it already July 4th this weekend?!
I'm flying to Chicago tomorrow morning and am so excited for some much needed R&R after two weeks of packing and coordinating this cross-country move. I won't have too many responsibilities once I land in Chicago because my boxes and furniture won't arrive on the moving truck until sometime next week. So while I don't have any set plans for the holiday just yet, my weekend forecast looks like a whole lot of sunshine, laying on the beach, rooftop barbecues, fireworks, and catching up with friends! I can-not-wait!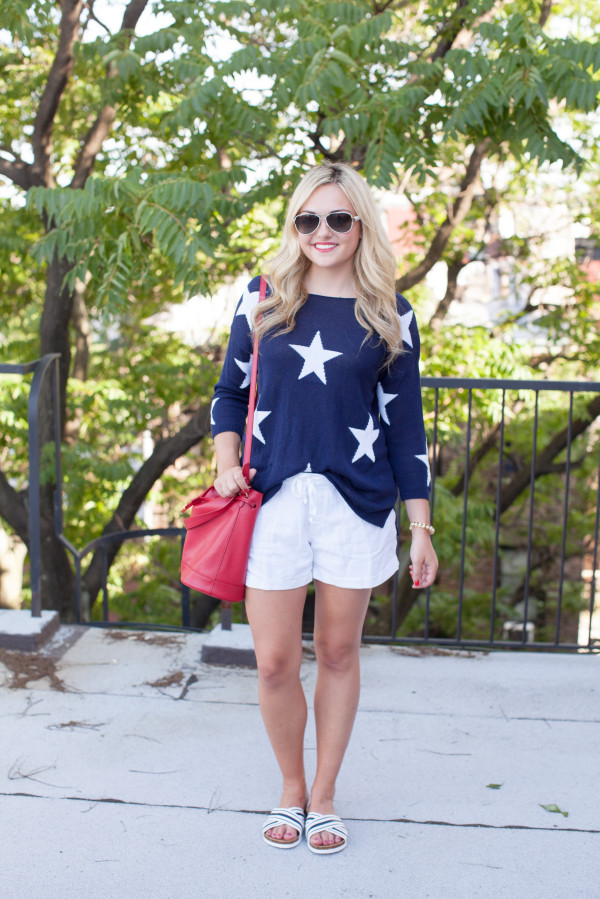 Ever since I was little, the 4th of July has been one of my favorite holidays. It was always so fun having people over to our house, going to friends' pool parties, and making our way to my hometown's little 4th of July celebration with carnival rides, lots of mini donuts and lemon shake-ups, and of course, a sparkly firework show!
Rooftops are a little bit easier to come by in Chicago than New York, or at least it seems. While I don't know what the view from my new building will be, plenty of my Chitown friends will have primetime rooftop views (or even better, boat-on-the-lake views) for the fireworks from Navy Pier this weekend!
I spent July 4th in Chicago last year, too — Remember this? We had such a blast barbecuing, sailing, and enjoying the perfect 70-something weather. The forecast this weekend is supposed to be in the 70's again and I couldn't be happier — not too hot, and not too cold. When you're by the water, though, or after the sun sets, long sleeves are kind of a must. (At least for me!) I saw this star spangled sweater at Old Navy and knew it was a must for the holiday weekend! I also picked up these linen-blend shorts that are insanely comfortable. I got this striped pair, too!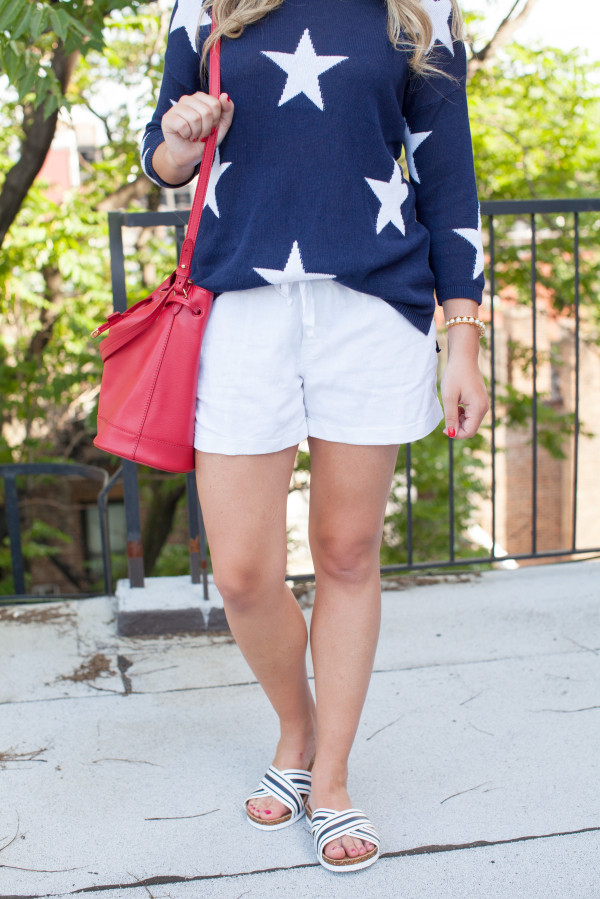 On a bit of a side note, I got rid of my Birkenstocks. I don't know what it is about my feet, but they weren't having the sandals. The first few times I wore them, no blisters, but every time after that, blisters after a block or two. No bueno! So when I saw these affordably-priced striped slides, I knew they would be the perfect replacement for weekend wear sandals. They're currently packed in my suitcase to wear by the pool over the coming days. I've worn them a few times running around my neighborhood and they've been super comfy!
What do you have planned for the holiday weekend?!
Old Navy Star Sweater (only $28!)
Old Navy Linen Shorts (on sale for $8!)
Old Navy Striped Slide Sandals (only $24!)
Ralph Lauren Bucket Bag
Coach Sunglasses
Lele Sadoughi Pearl Cuff
A special Thank You to Old Navy for partnering on this post!