How gorgeous are these tulips in Bryant Park?! It's totally fine if you want to just ignore my outfit and focus on the pretty flowers. Rose and I were so mesmerized by them when we met for lunch last week! Blame it on that pesky monster we call 'Winter' that overstayed his welcome. This past winter resembled the last guest to leave your party. You know who I mean… The guy that just.keeps.talking. You may have the entire place cleaned up already, music off, and constant yawns, but they're still there and not getting the hint. Yep, that was this winter.
Hopefully spring is here to STAY! And I mean spring. I'm not ready to start sweating to my death on my way to work each morning. Seasons, people!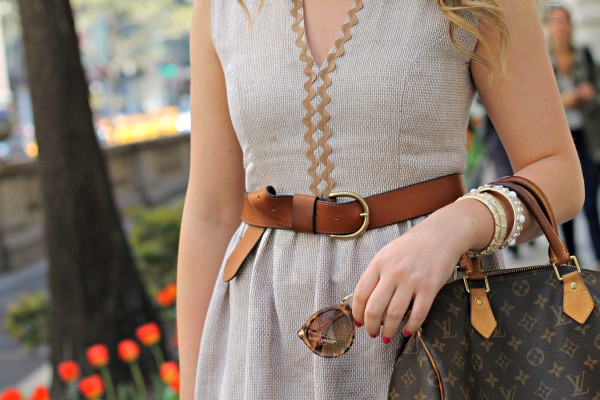 gifted Sail to Sable Dress / Madewell Belt / Steve Madden Sandals (old) / ASOS Sunglasses / Sequin NYC Bangles – one, two, three
Photos: Rose Mayo
Shop the Post
PS – I'm talking all things Jazz Fest over on StyleCaster today! Click here to check it out!