I don't post too much about beauty on Bows & Sequins, but I've been getting a lot of questions and requests about certain parts of my routine. So… I'm going to teach you how to do The Wave!
I try to let my hair air dry as much as possible. Before I start with my curling wand, I blast my strands with the blow dryer for just a minute or so to make sure it's completely dry. Here's the starting point… my natural, un-styled hair.
I place my thumbs at my temples and separate my hair in to two sections: top and bottom. I pin up the top half and curl the bottom half first. Getting used to a curling wand wasn't that difficult for me because I never really got the hang of a regular curling iron–true story. You simply wrap your hair around the wand, easy peasy!

When using a wand you have a lot of different options. If you twist your section of hair while wrapping it around the wand, you'll get a totally different curl. I personally prefer not to twist my hair and curl the 1-inch sections away from my face. I also prefer to leave my ends out of the curl for a more "un-done" look. You just have to play around with it to see what works best for you!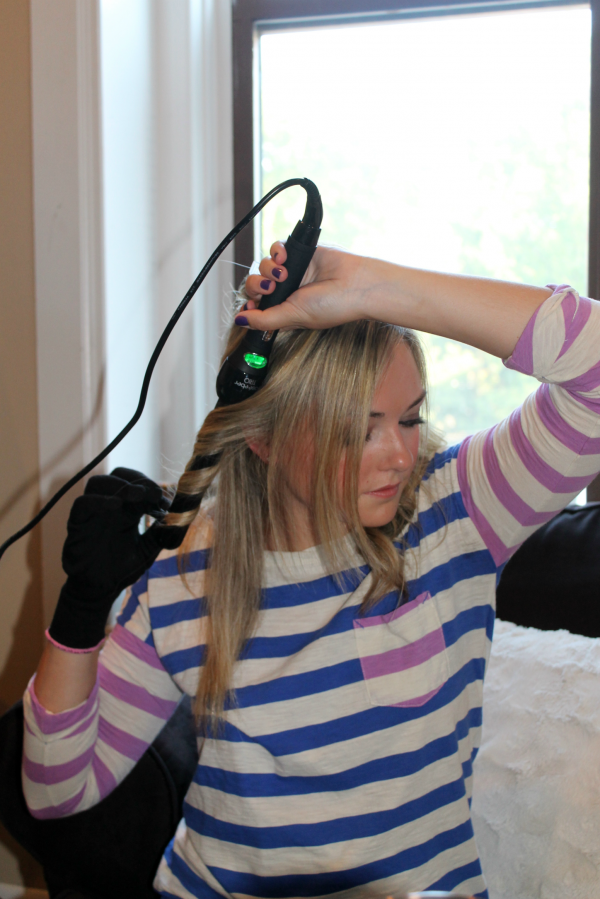 Once I get the bottom section curled, I let the top section down. Since I am going for loose waves, I don't curl every piece of hair. Some of my layers are shorter and blend right in to the pieces I've already curled. I pick out sections of longer strands and curl those.
Once I've curled all of the top pieces I need to, I finger-comb the curls and shake them out a little bit! I spritz the curls with a tad bit of hair spray and call it quits!
Curling Wand: Jose Eber c/o // Striped Tee: Madewell // Nails: OPI 'Purple with a Purpose'
The Jose Eber curling wand I'm using is really unique because it actually comes with three different barrels that you can pop on and off depending on which type of curl you are going after. For these loose waves, I'm using the 25 mm barrel. If you want to pick up this curling wand (or any other tool!) for yourself, Jose Eber is offering 15% off their entire site to Bows & Sequins readers. Use code BOWS15!
So… What do you think? Would a video tutorial be more helpful? Do you want to see more beauty on Bows & Sequins? Let me know! 🙂