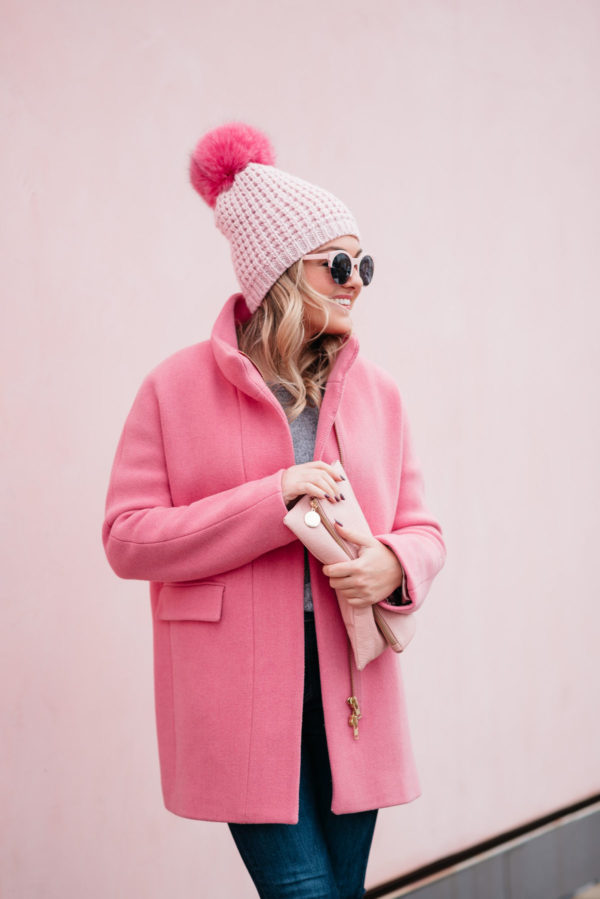 Hi, my friends. Happppy Friday! I feel like this week went by more quickly than usual and I'm truly in shock that we have less than a week left in February. WTF. I still feel like I just got back to Chicago, and I've been back living in my place for a month now! It's crazy how time flies, isn't it?
I've been working pretty hard to get a few different projects off the ground these last few weeks… Working through the weekend, working 16 hour days, skipping showers and workouts, etc. To be honest, it's pretty embarrassing to admit. And yesterday, I had an eye-opening conversation with my therapist about how I need to find some balance. (If you're so inclined, I talk about that more here.) So for the next week or two (or three), there's only going to be a new blog post on Mondays, Wednesdays, and Fridays. I'm confident that I can and will get back to the M-F posting schedule, but as they say, "you can't have all burners on high at the same time." I'm going to turn the figurative blog burner down to a nice medium-high heat 🤪 to focus on launching my podcast next week and dedicating more time to my styling clients. I hope you understand!
Hope you have a wonderful weekend ahead of you! xoxo jrs
Here are this week's finds…
IF YOU'RE DATING, PLEASE READ THIS. So much great advice.
My friends Ashley and Eddie launched a podcast called 'As Your Friend' this week and I'm so so so excited for them!! They're both so smart, so funny, and have the best personalities in real life so I can't wait to see where this goes. I also check out this podcast all about business collabs this week and I'm also excited to see where this one goes, too… Brand collaborations was one of my roles at my last corporate job and it's always been a passion of mine!
Totally crushing on this one-piece swimsuit! I'm loving the belted trend, so flattering.
I feel like a broken record with these slippers, but honestly I've worn them around the house every single day (winter or summer) for the last (almost) two years and they're just the best. I saw that they just got restocked in a bunch of colors and sizes so act fast if you want them, they tend to sell out quickly! (Size up if you're a half size… I'm an 8.5 and got a 9 in these.)

I already have a black faux fur handbag that I love, but if I didn't, oh my gosh, I'd be all over this one! I love the ring handle and chain strap. So chic!
But like, I don't have a blush pink one. And this mauve color is on sale for under $30, sooooo…
This $4 hair bow comes in both black and pink and I'm obsessed!
This bodysuit is a splurge, but it's *such* an amazing going out top!
If you'll be in the Austin area in March 7th, this event looks amazing!
21 Things to Do in New Orleans
I'm not really letting myself shop lately, but these raffia slides were the exception this week. I mean, they're $25 and I've been lusting over the similar Gucci pair for years.
One of my guy friends sent me this article about ADHD and I was S-H-O-O-K. Never in my life have I related to something more. And honestly, I've always attributed to all of these qualities of mine to anxiety. While I've always known that I struggle with ADD or ADHD to some extent, this really opened my eyes to it, and I'm really interested to do some more research and talk to my doctor and therapist about it.
Also! Remember those affordable swim suits I posted a few weeks ago?! They're currently buy one, get one 50% off! (Free shipping and free returns, too!)
And while on the topic of unaffordable swimsuits 😂, I just had to share this one. This bikini top and these bikini bottoms are the cuuuuutest things ever, but they're definitely on the wish list. 💸
Loved Grace's thoughts on friendship tiers!
The fiddle leaf fig in the living room of my apartment is real, but they are pretty temperamental. (My gave my subletters pretty thorough instructions, along with a big water bottle to measure exactly how much water it gets every Monday, haha. I was fully expecting it to die, but it's never looked better!! It's crazy to look back at those photos to see how it's definitely grown a few inches in the last two years since I took those photos. And no brown leaves at all!) But if you're looking for a faux one, this one looks pretty good, especially for just $60!
PS: Have you guys heard about this Rhianna challenge?? You're apparently supposed to google Rhianna + your birthday to see what outfit you get… I am *not* feeling mine, haha.