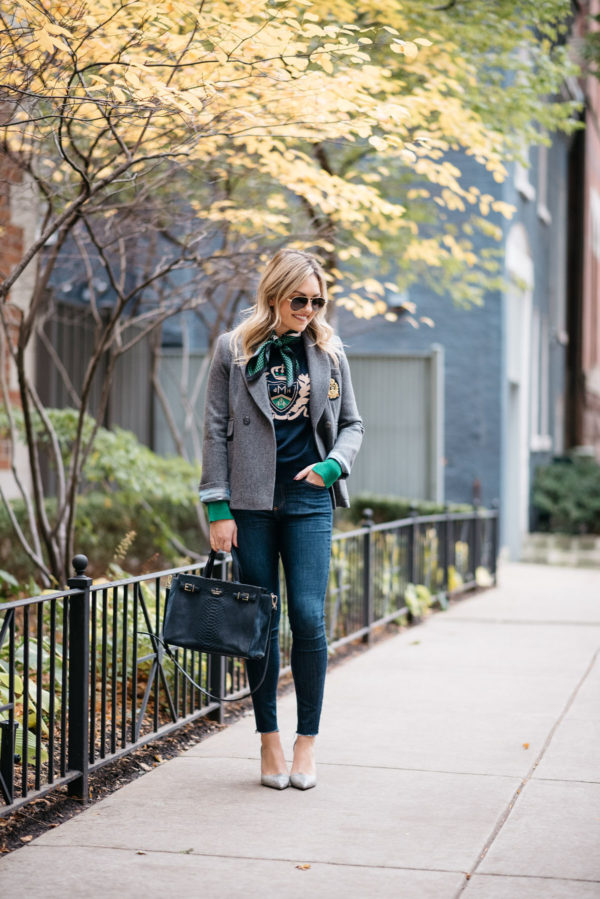 There's nothing I love more than a classic, preppy back-to-school look. A crisp, menswear-inspired blazer in the fall… can't beat it! I don't know what it is, but there's just something about this outfit that reminds me of Harry Potter… I may not be wearing a robe and a wand, but I just want to shout, "You're a wizard 'Arry!" And I obviously mean that in the best way possible.
On days when I'm working from a local café or coffee shop, I like to put on something that's put together, but still comfortable. And sometimes even wear heels just for the heck of it! When you work from home most days, things tend to be VERY cas' unless you're meeting with someone during the day. I'd like to tell you that I make it out of my pajamas every single day, but I'd never lie to you. Those days are rare, but they most certainly happen… Usually in the winter! To force myself from falling in a rut, I schedule days on my calendar where I pack up shop and work elsewhere… It's good for the mind to get a change of scenery from time to time. I'd love to know… Do you work from home some of the time? Do you want me to put together a list of the places that are great for getting work done in Chicago and/or New York? Let me know!
When I started my last job in NYC (August of 2013, I believe…), I had to work remotely for a month or two before we got our office set up. I was all like, "Oh my gosh, I don't mind at all!" To me, this was living the dream. Getting to work from different coffee shops in New York City everyday… PINCH ME. Two days in, I was hastily searching "best places to work remotely in new york" and "coffee shops with good wifi." It's a lot more challenging to find a good spot to get work done than you might think! I had no idea at the time. Between a strong wifi connection, good ambiance and a workable noise level, bathrooms, getting a good spot, outlets (!!)… It's essentially like trying to find a gold mine, even with all of the options in NYC. And after your first time forgetting something essential that you need at home (headphones or an important sheet of paper, for example)… You better believe you'll be making that list and checking it twice. Maybe five times. Oh, and then when you have to take a call and it gets noisy AF and you end up going outside, but you leave your stuff indoors and pray it doesn't get stolen because you don't want to lose your outlet. And let's not even talk about how much money you end up spending while working from somewhere that serves food and beverages… Wow, do I have PTSF?! Let's just say I resorted to working from my kitchen table or my go-to spot the rest of the time I was working outside the office.
Anyway! Last time I was in Paris, I discovered the store DMN. It's a brand out of Belgium that opened their store in Le Marais on Rue de Francs Bourgeois this past spring and I was instantly smitten when we stumbled up on it in September. (So much so that I ended up leaving my passport at the store and getting 'stuck' in Paris for a few more days while I was shopping there… You can read about that story here and here! This is the sweater I bought that day, fyi.)
The store (and brand in general) is SO good, you guys. You can ask Hallie, she basically had to drag me out of there. The best menswear coats, borrowed-from-the-boys blazers, the coziest of sweaters, I could go on and on.
Outside of their logo being an actual monogram (obsessed!), each piece just has so much character… Little details that take it to the next level. Everything has a little bit of personality and spunk… That je ne sais quoi, you know? I can't get enough!
So fast forward a week or two from that trip… Their marketing team reached out to me to ask for my address to "send a little thank you" my way for mentioning them on the blog and on Instagram. I thought it was so thoughtful, sent my address, and didn't think much of it. A few weeks later, I received a giant box in the mail with a handful of MDN goodies inside and I just about passed out! BEST. SURPRISE. EVER. For not having picked anything out or even telling them my size, it all fit like a glove and couldn't be more "me." Impressed and so extremely grateful would an understatement… This is honestly not the norm! But they've got a loyal fan and customer for life from me, that's for sure. (Thank you again, MDN!! xoxo)
I'm so glad Hallie and I ventured in and I pulled the trigger on splurging on that sweater… It's funny how things work out, isn't it? 😊
Get the Look…
DMN Blazer with Crest c/o
DMN Navy Crest Sweater c/o
Rag & Bone Raw Hem Skinny Jeans
DMN Silk Neck Scarf c/o
Kate Spade Navy Blue Satchel (old; similar here!)
Michael Kors Grey Embossed Textured Pumps (old; similar here + more in the widget below!)
Gucci Aviator Sunglasses
UPDATE: MDN has now re-branded to DMN. I believe their store in Paris is unfortunately now closed.