Happy Monday! I hope you all had a wonderful weekend with your loved ones. My family spent Christmas Eve at my brother's house and it was the first time most of us had been under the same roof for the holidays in quite a few years… Definitely a special year to remember!
My niece just turned four earlier this month and she's at such a fun age right now. On the morning of Christmas Eve, she and my brother were over at my dad's house and she helped me get ready for the day. She picked this blush pink sweater out of my suitcase and I even let her help do my makeup… It was a riot. (I posted a few videos on Snapchat!) When I asked her what she wanted for Christmas, she told me, "dress up clothes," among many other things. Thankfully, I had already gotten her a pair of cute glittery shoes that will work for both playing dress-up and everyday outfits, too!
We ate dinner, opened some gifts, had dessert, and embarked on the 3.5 hour adventure of Santa building her Barbie Dream House after she went to bed. I don't think we got back to my dad's house until almost 2am! You should see this thing… Fully functioning lights, an elevator, a pool, the whole nine yards. I wish I could have seen her face when she saw the giant house on Christmas morning, but it was so fun watching her open some of her gifts on Christmas Eve. Lots of Barbies, a headband making set, and it seemed like the sparkly shoes were a hit, too!
This has been a pretty strange holiday season for my family… I'm not sure if I'll be eventually be sharing more on that when I'm ready, but now is definitely not the time. To me, the greatest gifts this year have been my amazing girlfriends' support over the last few weeks and simply having my family under one roof to celebrate together on Christmas Eve.
This year made me realize it more than ever, but it's the people around the tree, not the gifts underneath that truly mater! Ivanka Trump's #CelebrateEachOther campaign is all about recognizing our greatest gifts — the people in our lives who lift us up, inspire us and empower us to be who we are.
I wore this Ivanka Trump jeweled-collar sweater last week (a bunch of you asked about it on Snapchat!) and sadly, it's since sold out online. I linked to a few similar options below though! This one and this one are probably your best bet.
Get the Look…
Jeweled-Collar Sweater (sold out; similar here, here, here, here, here, here, & here!)
Camel Coat with Removable Faux-Fur Trim Hood (on sale!)
Skinny Jeans
Suede Pointed Pumps
Earrings
Sunglasses
Cuff Bracelet
Leopard Clutch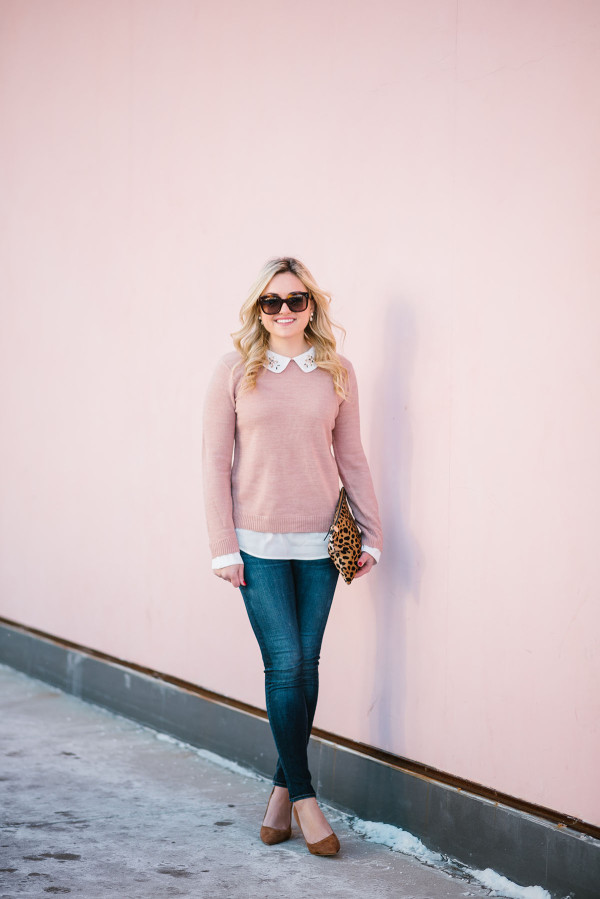 Enjoy the day/week if you're off work! I'll still be posting everyday this week… Stay tuned for a few New Years Eve outfits, my ski trip essentials, and more!
Created in partnership with Ivanka Trump