Happy Tuesday, you guys! How was your Labor Day Weekend? I spent Friday, Saturday, and Sunday at North Coast Music Festival (more on that to come!) and spent Monday relaxing by the pool before I almost got blown away and had to head inside. Chicago's weather was perfect this weekend… Not too hot, not too cold, which is great for a music festival. The humidity has since settled in, though, so it's going to be a few days of breezy dresses and wearing my hair up before I head to New York on Thursday!
When it's hot and humid and curling my hair turns out to be a waste of time (lately it's been falling flat before I even leave the house!), I've started opting for a little low bun instead. Super easy and so much more comfortable. I bought my first set of these spiral bun pins when I moved to New York in 2012 because the humidity was too much to handle. They're the only things that work for my hair, I swear! I gather my hair in a low pony (without using a pony tail holder) and twist it into a low swirl and secure with two of the spiral pins. Voila!
And when your hair is up off your shoulders, it's much more fun to show off a pair of statement earrings! I've had this pair from Bauble Bar for a few months and I absolutely love them because they're SO light and don't weigh my ears down at all. They look super luxe, you'd never guess that they're on sale for $22!
I last wore this ruffled top with black destroyed denim (see the post here!) and while it pairs perfectly with skinny jeans, I think it would also look great in the workplace with a pair of cropped trousers and cute ballet flats or suede loafers.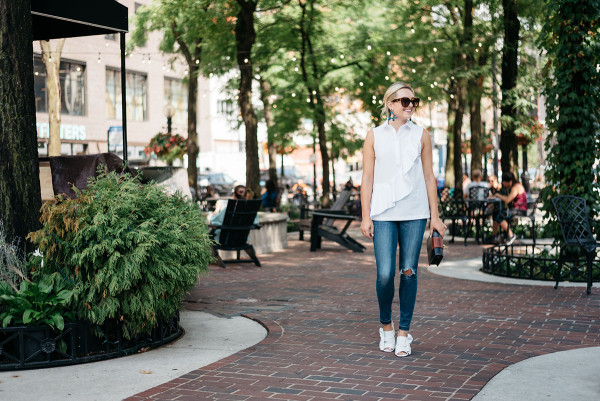 I can't go any further without obsessing over these shoes! [insert heart eye emoji here x100] With the oversized bows and pearly heel, I couldn't say no. They remind me so much of Gucci, but at a tenth of the price. Such a fun statement shoe for this summer to fall transition! I'll definitely be packing them for NYFW this weekend.
Get the Look…
Topshop Sleeveless Ruffled Blouse
Old Navy Denim
Topshop Leather Bow Mules (also love these!)
Leather Box Clutch (from a small shop in Florence, Italy; similar here & here)
BaubleBar Tassel Earrings (on sale! available in a few cute neon shades! also love these!)
Celine Sunglasses (similar here for $24!)