Last week we had a little taste of that awful humidity that New York is known for in the summer… And I did not like it one bit! (And judging from these photos, my hair wasn't too keen on it either.) Isn't it funny how you wait and wish and count down the days until the summer, but then b*tch and moan when it's too hot? Oh wait, that's just me? Oops.
If last week was any indication what's in store for us come July & August, I'm going to be living in easy, breezy dresses. It's the only way to get by! (And maybe by shaving my head if my hair continues to frizz and fall flat this badly…)
When I saw this dress, naturally I fell in love with the orange & blue stripes. (I mean, it's perfect for Illinois games!) But then when I saw the price tag was less than $30, I knew it was a keeper! Can't beat this kind of deal, especially when I  know I need to stockpile breathable dresses for the dog days of summer that are ahead of us.
When it comes to my summer wardrobe, simple starts to takeover. You know I'm a jewelry and accessories girl, but sometimes it's just too dang hot. I love a printed dress that makes most of the statement, without having to add on too many extra layers.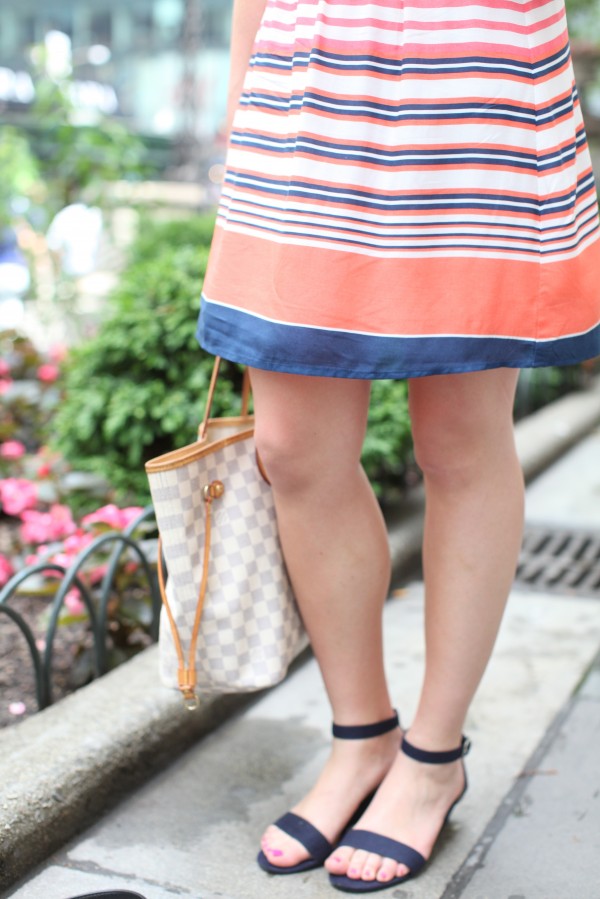 Charming Charlie Dress c/o | Gap Belt | Old Navy Sandals | Bauble Bar Bracelet